British Airways is one of largest airlines in the United Kingdom and operates their hubs from London's Heathrow Airport (LHR) and Gatwick Airport (LGW). The carrier was established in 1974. It is also a member of the Oneworld alliance. They operate their flights to more than 160 destinations in Europe, Asia, North America, Africa, South America and Oceania.
This includes 6 domestic destinations. It also has codeshare agreements with the other 25 carriers. Cabin configurations vary but may include First Class, Business Class and Premium Economy Class and Economy Class.
British Airways Baggage Policy:
The Passenger who is flying in British Airways can proceed with 1 carry-on bag and personal item with them according to the class at the airport. And your carry-on baggage must be fit in the overhead bin or under the seat in front of you. The following considers the detail on British Airways baggage allowance:
Carry-on Allowance:

Checked Baggage:


Extra Baggage: –
You can pay to take up to ten additional bags to have a total of eleven bags if your free checked baggage allowance is one bag. But the size and weight should remain same as a standard checked bag.
You can pay online or at the airport for the extra bags at any time before check-in.
Overweight Bags: –
You will need to check it if your baggage is over the weight limit. But if you are traveling with overweighed bags, then you need to pay for extra baggage at the airport.
Music Instruments: –
The maximum weight of musical instruments is 45kg (99lb) and size is 56 x 45 x 25cm (22 x 18 x 10 in).
You can carry the musical instruments on board as part of free hand baggage allowance. But you cannot carry the double basses.
The airline will notify you at least 24 hours before if the allowance of instruments is increased by 190 x 75 x 65 cm (75 x 29.5 x 25.5 in).
You need to pay for an overweight baggage if instrument weight is more than 23kg.
Sporting Equipment: –
You can carry the sports equipment as part of your free checked baggage allowance:
You can take larger items of up to 190 x 75 x 65cm (75 x 29.5 x 25.5in) by paying the additional charges.
If the weight of the Items is over 23kg, then it will count as overweight baggage.
You have to pay if you want to take more checked bags than your allowance.
In-Flight Facilities:
Food and Drinks: –
Enjoy delicious sweet and savory British food when you are traveling in Long and short-haul flights. The airline also has a wide range of hot or cold drinks.
The airline has complimentary snacks, seasonally updated menus, and fresh food options.
The passengers have different choices on a hot English breakfast and vegetarian alternative. The airline also offers the bacon roll, fresh fruit, and a dairy product.
They also offer the lunch and dinner food with a fresh salad or a hot sandwich each served with dessert.
Purchase the in-flight meal service from online between 30 days to 24 hours before the flight.
Lounges: –
They have 30 departure lounges and more than 100 partner lounges. You can use them if you are:
Flying as a Silver or Gold Member* of the British Airways Executive Club, or an Emerald or Sapphire member* of any of the Oneworld airline frequent flyer programs or on a scheduled flight in First and Club World.
The airline has the business, first and arrival lounges with the various facilities like spa, shower or snack or drink.
Duty-free products: –
The airline also offers the duty-free products so that passenger can shop number of range of in-flight goods as soon as you board your flight. Make your purchase at least 3 days before to have your product directly to your seat on board.
My Entertainment Plan: –
A new feature My Entertainment Plan is that where you can watch the latest episodes, Movies and games to stay entertained during the flight. You can also email or share your entertainment plan if want to bring it with you on the board.
Other Amenities: – The Inflight entertainment facilities also include:
The passenger can also use the electronic device to enhance the journey.
Their onboard program also includes the number of additional languages and accessibility options.
Connect your electronic device to the in-flight entertainment system to charge it, watch movies on the bigger screen and access the other facilities.
The airline refreshes their in-flight entertainment program every month, or daily, or weekly basis.
The airline also offers the Wi-Fi connection on board.
Other Services:
For Infants:
The children are the age of 2 cannot apply for have their own seat. They must have to travel with an infant who is at least 15 years old.
Lap children are required to travel with the only those passengers who are at least 15 years old.
Only one lap child is allowed per adult. If more than one infant (who is under the age of 2) is traveling with an adult, then a seat must have to be purchased for the additional infant.
You can also purchase a seat for your infant as you have the proper child restraint device.
Pay for the seat of Infant to travel domestically or internationally: –
If you want to book the seat for your infant, then he/she must be between 6 and 23 months. You need to pay for this seat but it cannot be booked online.
A ticket will have to be purchased for the infant who is over the age of 2.
The infants are not allowed to sit in an exit row. The passengers are in an exit row must be at least of 15 years old.
Unaccompanied Minors British Airways:
The children who are traveling without a parent or legal guardian are considered as unaccompanied minors.
The children age of 5 to 11 years old can travel without an adult.
Children under 5 years of age are not allowed to travel alone. They have to travel with an adult who is at least 16 years old.
The airline will not accept if the children journey includes a night-stop, transfer, or stopover is more than 6 hours.
Provide the full contact details to the airline before the child ahead to the first flight.
For Pets:
British Airways are managed the booking of animals by IAG Cargo. It carries handles and ships the live animals.
Border Inspection Points available 24 hours, 365 days per year at the dedicated airport.
Fully trained personnel with vast experience, handles and ships the live animals.
The airline also cares the animals in the cargo terminal.
There is a strict control inside the aircraft.
Kennel Requirements: –
The actual size of the cat's kennel must be of 27 x 20 x 19 inch or 68 x 50 x 48 cm.
Minimum requirement for snub nosed dogs and cats is a 10% larger container than the actual size.
The container must be strong enough and have sufficient ventilation on all four sides.
The door must be secured in such a manner that it will not open accidentally.
The container must have a water pot and a food container so that it can easy for access from outside.
Make sure pets are able to stand without touching the top of the kennel.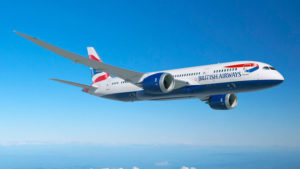 Colin Pay 
I flew from Brussels to London Heathrow on an A320. The aircraft was about three quarters full. Boarding was smooth and we left and arrived slightly early. The sale of food and drinks went well and didn't appear to have much of a take up on this flight of less than an hour. Crews were good.
Seacreature1
Considering the many challenges that flying presents these days, overall it was a good experience. The people, in all cases and dealings, were excellent. I would give them a five. When traveling Economy, you must expect that there is little leg room and it's going to be an "airplane meal", not the Ritz. And, you need to have patience for changes. In our case, our initial flight through Dallas was changed due to a hurricane headed for Florida. They divert the plane to Miami to help evacuate people. They called me immediately, exchanged our flight to a more expensive one that was direct to London, and managed to find us comparable seats for the upgrades we had purchased, all while being very polite and accommodating. I give them an A+ for service!
AmenaPhi
The seats were great and comfortable for sleeping during the 8 hours flight. Although I was not allowed my laptop with me on board but that was fine. The food was good too!