Once you arrive at the Airport you are required to go to a "Check-In" desk so that the airline can accommodate for all the passengers. The check-in process at airports enables passengers to check in for luggage, pass security, obtain a boarding pass and then move to the boarding area.
At the check-in counter, the airline provides evidence of a right to travel, like a ticket and visa. Many airlines have a deadline for passengers to check-in before each flight. So, they can offer unclaimed seats to standby passengers and load luggage onto the plane.
Like that, here is the number of options available for a Lufthansa passenger in regards to picking the best one check-in option according to their comfort.
LUFTHANSA CHECK-IN TYPES
The check-in deadlines are different at every airport and vary from 120 minutes to 30 minutes before departure. The airline will cancel your reservation if you do not comply with the check-in deadline for your first flight.
Therefore, here you can find the information regarding Lufthansa check-in time check-in process, depending on where you plan to travel.
Automated Check-in
It is available for all Lufthansa flights, which operates within Germany and Europe, free of charge. You can register via your Miles & More profile. And, if you are not a Miles & More member, then you can register via the link in your booking confirmation.
You can receive your mobile boarding pass by SMS or e-mail.
Seat reservation is only possible at the time of booking, but you can change your seat at any time online or via your mobile phone.
You can also make the changes to your booking after Automated Check-in within 23 hours before departure.
Change can be made either online, under "Check-in" via the option "Cancel Check-in", or by contacting at the Lufthansa office.
Registration with the Miles & More program:
You can send the text message free of charge, but the additional charge may apply like sending the reply by text when using the SMS check-in service.
You can also deactivate the Check-in in your Miles & More profile at least 24 hours before your departure.
Online Check-in Or Web Check-in:
It is available from as early as 23 hours before departure. You can choose your seat and print your boarding pass for your convenience or can send it to your mobile phone, at home or at the office.
Flights Availability:
Web check-in is available for Lufthansa worldwide flights but, not available for the city departures from:
France to Bastia (BIA), Montpellier (MPL).
United Kingdom to Cardiff (CWL), Inverness (INV), Newquay (NQY).
Ireland to Knock (NOC).
Croatia to Pula (PUY).
Hungary to Balaton (SOB), Debrecen (DEB).
Italy to Lamezia Terme (SUF), Perugia (PEG).
Spain to Vigo (VGO), Jerez de la Frontera (XRY).
Portugal –to Madeira (FNC).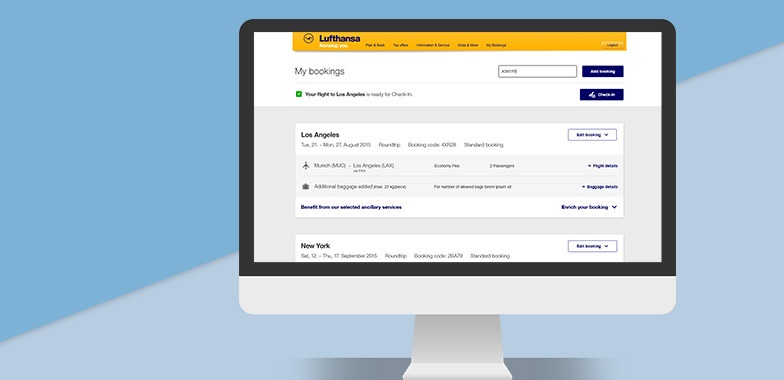 After checked in, you can check your baggage at the Lufthansa Quick Check-in baggage drop-off counter.
Online Check-in Options:
There is the number of options available during the Online Check-in process:
Check-in for outbound & return flight if return flight takes place within the next 23 hours.
Check-in for multiple passengers or for an additional passenger who is on the same flight on the same day.
Passengers can use Check-in as waiting list passenger.
Choose or change seats for all the passengers in your party.
Change flight if your ticket is changed without charge, have no connecting flight, have not ordered a special meal and do not want to use an upgrade
Can upgrade to a higher class by using "Upgrade against miles" option if Miles & More card number has been stored.
Add a frequent flyer card.
Obtain Lufthansa Boarding Pass:
You can obtain your boarding pass at the end of online check-in:
Print your online boarding pass right away or save it on our device for later printing.
Mobile Boarding Pass will be send to your mobile device via e-mail or text message.
Get your boarding pass at a Check-in Kiosk or a Lufthansa office if you have problem of printing.
Mobile Check-in
Mobile Check-in is possible via Lufthansa app or mobile portal and for that, you need an electronic ticket.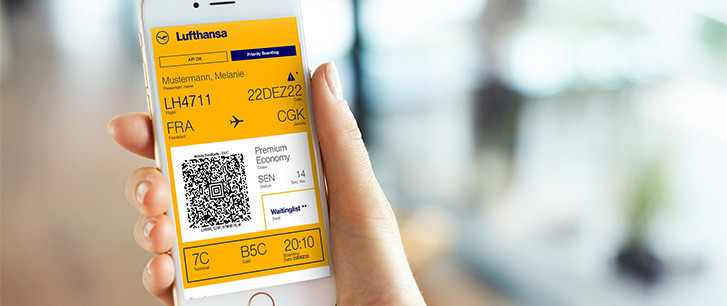 Mobile Check-in is available 23 hours before your flight.
You can identify yourself by booking reference, frequent flyer card number, etc.
Check-in is available for multiple passengers or group.
Each passenger in the group is required a phone number or an e-mail address.
Flights Availability:
It is possible for flights with Lufthansa, Austrian Airlines, and BMI. You can check in via your mobile for flights from Germany.
DEPARTURE TIME
OBTAIN BOARDING PASS
AVAILABLE FOR FLIGHTS

23 Hours

·        E-mail or text message link.

·        The Passbook app

·        SWISS

·        SAS

·        Croatia Airlines

·        TAP Air Portugal

·        Adria
Machine Check-in
Passengers can use a check-in machine from as early as 23 hours before departure. This is available at the number of airports in Germany and Europe, to check in quickly and easily. But, you cannot use this is you are traveling with pets.
You can check in for baggage either automatically or at the baggage drop-off counter.
To identify yourself enter name & booking code, scan machine-readable passport or ID card, or use the frequent flyer or credit card.
If you want to make changes in your seat, then just scan your boarding pass or Mobile Boarding Pass.
Machine Check-In Option:
This process offers you several options during check-in:
Change seat.
Add traveling companions.
Add frequent flyer card.
Upgrade to a higher travel class.
Change flight.
Check-in for outbound & return flight: If do not want to check in for a return flight, then click on "No check-in for return flight".
Entering entry/visa details.
| | |
| --- | --- |
| DEPARTURE TIME | AVAILABLE FOR FLIGHTS TO |
| 23 Hours | The US, Mexico, Canada, China, Japan, Korea, India, and South Africa |
In this check-in option, you can register the information yourself that is equipped with scanners. This can save your the trouble of registering at the departure gate.
Counter Check-in
Lufthansa eFly services are available in place of the traditional check-in counters for flights in Lufthansa Economy Class.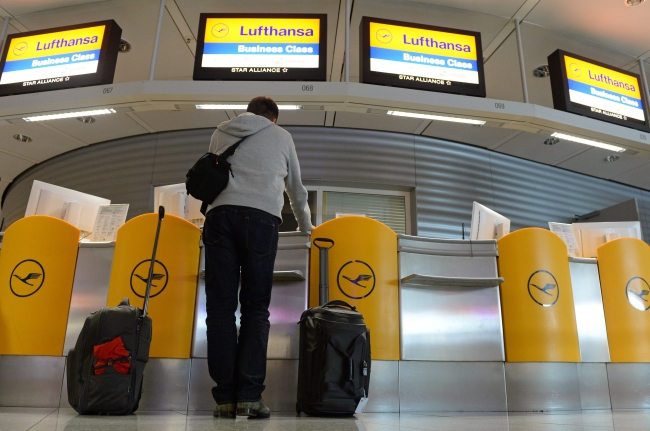 In exceptional circumstances, traveling on Economy Class ticket check-in is possible at the check-in counter.
They can also check in via mobile phone or at a check-in machine.
Late Night Check-in
It allows you to complete the check-in process the evening before a flight, but no earlier than 23 hours before departure. You can choose your seat and obtain your boarding pass at the counter or check-in machine.
Late Night Check-in Options:
This is only possible for groups if tourist guide accompanies them.
Check-in for a smaller group (families, couples) via one member of the group is possible.
DEPARTURE TIME
AVAILABLE FOR FLIGHTS TO
Evening

before

flight

, but no earlier than 23 hours before departure.

·        The US and Mexico only for direct connections and transfer flights

except

transfer flights into the US when the transatlantic flight is operated by an US-American carrier.

·        Not available for the flights departing the US, Canada, and Mexico
This guide is for informational purpose to assist you with the number of check-in options are available at the airport. This information will aware you about the check-in' options, departure time and for which route it is available.
Also Read: