Ryanair is the low-cost carrier of Irish. It is one of the largest airlines in Europe. It is situated in the Swords, Dublin and also carried the more international passenger than the other airline.
The primary bases are located at Dublin Airport (DUB)  and London Stansted Airport (STN). The aircraft flies over 190 destinations across the 30 European countries as well as Morocco.
The airline is a budget airline so that it flies to such secondary airports where operating costs are lower. It consists of 318 Boeing 737-800 aircraft, each of which is configured with a single Economy Class cabin.
RYANAIR BAGGAGE POLICY
Passengers are allowed to carry on two bags like 1 handbag and 1 small bag. But, the devices and garments will not be counted as personal items. Place your all carry-on in the overhead bin or under the seat that is in front of you.
Ryanair Baggage Allowance For Carry-On, Handbag And Checked:
This contains the information like Ryanair checked baggage dimensions, hold baggage allowance, Ryanair hold luggage size and weight.
| | | | |
| --- | --- | --- | --- |
| Baggage | No. of Bags | Max. Size | Max. weight |
| Ryanair Carry-on | 1 | 22 x 16 x 8 in/55  x 40 x 20 cm | 22 lbs (10 kg) |
| Hand bag | 1 | 14 x 8 x 8 in/35 x 20 x 20 cm | 22 lbs (10 kg) |
| Checked Baggage | 2 | 81 x 119 x 119 cm. | 15kg or 20kg |
You can carry a baby bag up to 5kg in addition to your carry-on luggage if you are traveling with an infant under 23 months.
Checked bags are charged per person if the dimension and weight are more than the limits and will also depend on the route and travel dates.
Handbags are free of cost. But, if it is overweighed, then the representative either will refuse to take them with you at the gate or charge the fee.
Excess Baggage
You can purchase excess baggage up to a maximum of 32kg if your checked bag weighs more than 15kg or 20kg.  Purchase it at the airport ticket desk.
Sporting Equipment & Musical Instruments
Passengers can also check-in the sports equipment and musical instruments as hold luggage along with the other checked baggage. But it is not more than 20kg kg per item and 30kg for bikes.
SPORTS EQUIPMENT
MUSICAL INSTRUMENT
·        Fishing Rods

·        Bikes

·        Golf Clubs

·        Fencing equipment

·        Scooters

·        Javelin

·        Pole vaults

·        Surfboards

·        Snowboards

·        Bodyboards

·        Skis

·        Harps

·        Double bass

·        Drums

·        Guitars

·        Violins

·        Other smaller musical items
Sporting equipment and musical instruments weighing over the 20 kg allowance will be charged for the excess baggage.
Guitars, violins, or violas and other smaller musical items, which exceed the cabin baggage dimensions, may be carried in the cabin if a seat has been reserved and the appropriate fare paid.
RYANAIR CUSTOMER SERVICE
It upgrades the quality of life on board and fulfills the needs of the passengers during the flight. On the board, you can bring your own food. The hot drinks are not allowed on the board. You can purchase them from in-flight menu.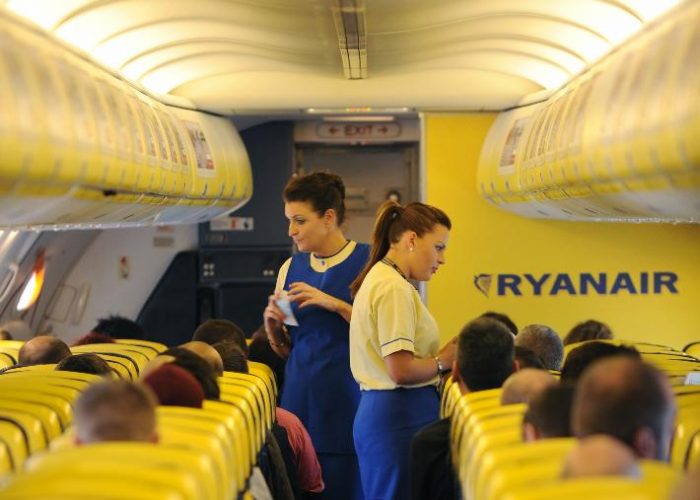 Food and Drinks:
The airline provides the wide variety of snacks and beverages on the flight. They also offer a delicious range of snacks, choices on hot or cold beverages and a full range of beers, wines, and spirits on all flights. The passengers can purchase them on board bar and also are detailed in the in-flight magazine.
'Quiet Flights' Service:
It is always providing the easy and comfortable seats and making the trip enjoyable. That's why the airline introduced the new 'Quiet Flights' service.
This service is for those passengers who want to rest in the flight. They provide this service which flies on flights up to 7 am and after 10 pm.
The in-flight café service offered meals and snacks during these times.
Electronic items:
You can use the most electronic items during your flight. You can also use the following portable electronic devices which are less than 1 kg for the entire duration of their flight.
And such items are: Tablets, Smart Phone, iPod, 
E-Readers, MP3 players, Portable DVD players, etc.
You can also use the other larger portable electronic devices like laptops.
Ryanair In-flight Shopping:
The Passenger can choose from a wide range of global luxury brands on board in the next flight like the classic Fragrance collection, cosmetic collection, and gifts etc.
Ryanair In-flight Wi-Fi:
In-flight Internet is available to passengers for emailing, VOID and conferencing. Connect your device to the Wi-Fi and enjoy the services like watching favorite shows, reading books, playing games etc.
Ryanair Duty-Free Shopping:
On flights, duty-free shopping and worldwide satellite communications are also available for in-flight communication for passengers to receive and make calls during a flight.
In-flight Entertainment:
It also provides in-flight video programs like movies that can be translated into multiple languages.
Channels are offered to watch news, cultural information and other programs.
Radio programs and newest CDs are also offered on the board.
The passengers can also enjoy the taste of latest songs, soundtracks, and news. It offers different types of games.
Other facilities:
Ryanair in-flight magazine stores the number of books like novels, business related magazines, and other major readable material.
Ryanair in-flight food menu: You can also pre-order the meals during the checking in on the website. But not be later than the 48 hours before departure time.
But, there is a limited availability of breakfasts, so have to pre-order one early.
Power ports are also available on the plane.
RYANAIR INFANT, MINOR & PET POLICY
It is defined as the children who are between the age of 8 days and 2-years-old must sit on the lap of an adult passenger.
Infants are not allowed to sit in their own seat in the cabin.
Lap children can only sit on the passengers who are 16 years of age or older.
Only one child can travel on the lap of an adult.
A ticket must have to purchase for the infants who are more than the age of 2 years.
The infants cannot sit in the Exit Row.
The passengers in the Exit Row must be at least 15 years of age.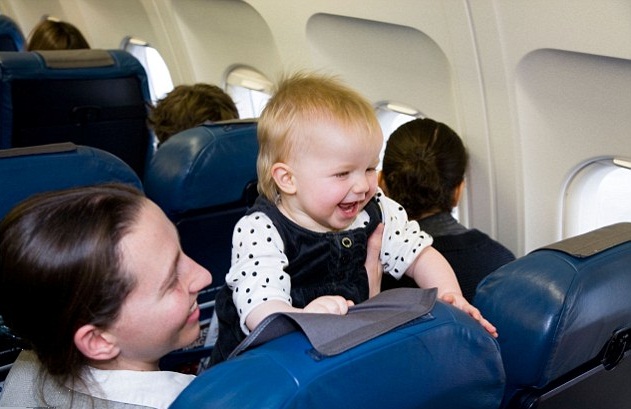 Minors: –
The Passengers who are over the age of 16 can travel without an adult. But the children under the age of 16 must be accompanied by an adult.
Ryanair Pet Policy: –
The airline does not allow pets in the cabin. It only allows the guide dogs on board free of charge. They can carry four guide dogs on any one flight.
The guide dogs are not be accepted for travel on the following routes:
When the flights fly to and from the Sweden Norway and Morocco.
The flights between mainland Europe and the UK or Ireland.
The passenger can bring their guide dog on board but for that, they must contact the airline by online or through the Special Assistance on the same day of booking.
RYANAIR CHECK-INS
Online Check-in:
You can check-in online for your flight between 30 days and 4 hours before the departure time if you have reserved a seat. But, non-pre-booked flyers can check in 7 days to 4 hours before the departure.
Reach at the boarding gate at least 30 minutes before the departure. Passengers who do not bring their printed boarding passes will be required to pay for the boarding pass to receive a new boarding pass.
APP Check-in:
Checking in with the app is simple and can be done anywhere. You can retrieve your booking by filling the 6 digits Reservation Number and Email Address in the required fields. After that, purchase the seat; and fill your ID and passport details. Your boarding pass will be displayed on your screen.
Website Check-in:
Retrieved your booking and purchase the seat if you have not. After that, select continue to pay for your seats and retrieve your boarding pass. Now, you can download or print your boarding pass.
This airline is one of the most innovative, dynamic, most importantly and profitable transportation for the passenger. This guide will help you to obtain the latest information about baggage policy and allowance of an airline.
RYANAIR REVIEWS
Peter Matthews
This is not about a flight it is about the superb way customer services handled our forced cancellation of a flight from Pisa to Brindisi. My mother died and they handled the cancellation efficiently and refunded the costs in a very timely manner, full marks to them.
A Hearne
I flew from Dublin to Manchester. Would just like to say this is first time of being on a flight that nuts are not allowed. My partner didn't come with us but has a nut allergy and I hope other airlines would follow suit when necessary. Even though only a short flight everything ok. Wasn't happy about my bag ending up in hold on way home as had to wait ages at carousel for it but overall very good.
Dave S
Our travelling companion who is a big guy was made to move as the seat belt did not fit. This is the first time he has had this problem the other airlines belts fitted him fine.
The price of food and drinks is extortionate and not of a decent quality. I keep saying I want to fly with airline again.
Read Also: